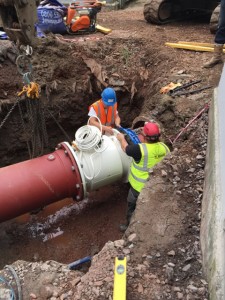 ClipperTech was asked by Veolia Water to investigate a more reliable measurement of the flow from Dalkeith SWW. After discussions with a number of suppliers, both ClipperTech and Veolia chose to use the ABB FXP4000-DP46F Electromagnetic Flowmeter to measure flow along its network on the "Almond Valley, Seafield and Esk" (AVSE) PFI contract.
This is one of the first applications that this device has been used in Scotland on such a critical application. The advantages of this device is that it is effectively non-obtrusive and can measure flows within the pipeline when it is not completely full, unlike standard electro-magnetic flow meters that require a full pipe at all times to measure.
ClipperTech completed the full project including the installation of the flowmeter, pipework and fitting as well as the civil works. The project required the excavation and creation of a new manhole while flows were diverted during the breaking in period. The photo highlights its substantial size of the flowmeter and the pipework.
ClipperTech has also provided connections to allow verification of the performance using a second devise to ensure accurate readings are provided. This system has now been installed and working successfully for 3 months.