Products /
Flow Measurement

/

Closed Pipe Systems

/ Flow Measurement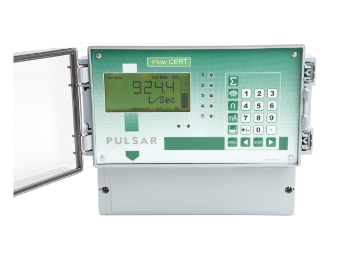 FlowCERT
The most accurate ultrasonic open channel flow system available anywhere.
Pulsar's FlowCERT system gives you everything you need for the industry's highest accuracy non-contacting ultrasonic measurement of open channel flows. Designed for flumes and weirs, FlowCERT gives temperature-independent, reliable measurement and logging facilities. It includes five alarm/control relay plus 4-20mA output, data logging, digital input with the ability to accept a Speedy velocity sensor input for non PMD (area x velocity) applications. Programming is a simple menu driven process.
In recent MCERTS tests, FlowCERT with DUET was found to be the MOST ACCURATE open channel combination tested. Not only that, but Pulsar's option, FlowCERT Lite, featuring a dBMACH3 transducer, also passed the Class 1 test.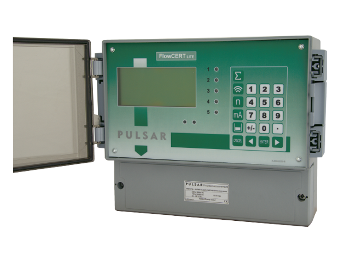 FlowCERT Lite
The last word in accuracy for non-contacting open channel flow measurement.
Ideal for flumes or weirs
Easy installation, simple menu-driven setup
Meets BS3680 open channel flow standard
Proven non-contacting ultrasonic technology
Large on-board memory gives 1 year log at 15min intervals (optional)
Modbus and Profibus options
FlowCERT Lite is fully certified to MCERTs Class 1. The Lite system features: FlowCERT Lite controller, dB3 transducer and an external PT100 Class B3 temperature sensor.
FlowCERT Lite offers a combined performance figure of ±0.04% error on the MCERTs official tests, it easily passes the Class 1 standard, establishing itself as one of the most accurate open channel flow measurement devices available.
N.B. Direct sunlight/solar radiation can significantly influence the speed of sound. In applications where this is likely we recommend the use ofFlowCERT featuring DUET.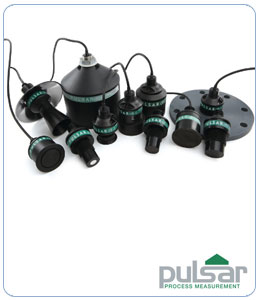 dBMACH3
high accuracy open channel flow transducer.
Featuring unique sun and submergence shields, the dBMACH3 transducer is designed specifically for open channel flow applications. dBMACH3 is the first ultrasonic transducer with zero effective blanking distance beyond the nose cone, allowing it to be sited as little as a few mm from the high flow level. One of the critical factors affecting ultrasonic accuracy is the measurement distance and air temperature, so by minimising this distance, accuracy is maximised. Operating at 125kHz frequency the transducer provides a resulting high resolution accuracy. Essential in open channel flow applications. This dBMACH3 is used with Ultra 3 or 5 and TWIN when in open channel flow mode.