Products /
Flow Measurement

/

Closed Pipe Systems

/ Ductus TT COHP (clamp on)
Ductus TT COHP
Ultrasonic multipath flowmeter
A further area of application is the detection of burst pipes. Here, at least two systems have to be permanently installed in the pipelines to be monitored. Because of the accuracy of our products even small leakages can be detected instantaneously.
Acoustic Paths:
1 – 8
Accuracy:
± 0,5% with 8 paths
Range:
± 20 m/s
Pipe Diameter:
0,3 – 10 m
Pipe Wall Thickness:
max. 100 mm (steel)
Display:
4 lines, 20 characters
Data logger:
internal,
sampling interval user selectable
Communication:
RS-232, 

MODBUS

, Ethernet, USB
Inputs:
max. 8 x 4-20 

mA

Outputs:
max. 4 x 4-20 

mA


2 x Relay, 2 x Pulse
Power Supply:
85-264 

VAC

 (50-60 Hz) or 12 

VDC

Battery Backup:
Integrated, 2 Ah
Enclosure:
Steel, wall mounted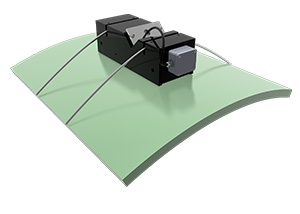 Transducer
Clamp On
Frequency:
200 kHz
Beam Width:
8° (

-3dB

)
Pipe Diameter:
0,3 m to 15 m
Pipe Wall Thickness:
up to 100 mm (steel, plastic, glass fiber)
up to 40 mm (concrete)
Material:
Stainless Steel, 

Polyamid

Dimensions:
300*120*

100mm

Mounting:
non-intrusive
from the outside of the pipe
Advantages of Clamp-On Systems
A flow meter using clamp-on transducers makes measuring discharge non-intrusive and easy from the outside of the pipe. The transducers are installed with little technical effort and without process interruption on the pipeline.
Rotationally symmetric flow profiles can be determined with a single acoustic path; non-symmetric profiles require the use of several acoustic paths.